Tip of the Month
Keeping up with the expanding demands of the modern office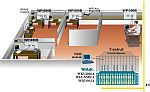 You are responsible for the company's office network. People always need more LAN devices (laptop, PC, network peripherals) and require PoE/PoE+ suport for IP telephony, IP camera, wireless access device atc. and each person needs to be hooked up to the network with all of these devices simultaneously. You could pull additional wiring from the network core to add more ports and drill another outlet into those open space or asbestos office walls. But surely there is a better, cheaper way to go about this!
The following guidelines will help you to keep up with the demand for more access ports per person and ensure your network infrastructure is able to support the all additional devices in the most cost efficient way.

Build a distributed network architecture infrastructure, with all the appropriate building blocks:
Any corporate network core switch (copper or fiber).
Any one of WizLAN's modular connectivity centers that will convert your cabling to fiber.
A stock of fully managed, multi-port access switches designed for the office. If your office has cable trunks or sub-floor tanks, choose any one of WizLAN's installation switches, otherwise, go with one of WizLAN's standalone access devices.
Existing FTTD cable infrastructure, also provided by WizLAN.
The infrastructure of this distributed network architecture will be better equipped to support network expansion in the long run. If you set up WizLAN's sophisticated access devices at the edges of the network, instead of at the network core, you won't have to waste time, money and effort on drilling holes and wiring. Using the existing infrastructure, you can support any number of additional devices per person, improving bandwidth aggregation, and lowering your costs of network ownership.

WizLAN's installation switches and standalone access devices are specially designed with the growing needs of the corporate/office in mind. The wise choice of multi-port devices have daisy chain/cascading capabilities, and built in support for PoE, PD and PSD. Management capabilities include port-level management monitoring, access control and remote software update.

WizLAN's Wiz-Plate product line of "IN-the-wall", fully managed installation switches, and Wiz-Lite Managed standalone access devices easily expand LAN infrastructure connections. These compact, secure and unobtrusive units will enable you to connect a variety of devices via one multiple port saving bandwidth, and take advantage of the switch's built-in PoE support to enjoy more converged services.

Take a look at WizLAN's Office Access offerings and choose for yourselves.